The Best Security Tools For PC
McAfee Total Protection 2011
Outpost Security Suite 7 Free
TrustPort Total Protection 2011
ESET Smart Security 4
Norton Internet Security 2011
---
McAfee Total Protection 2011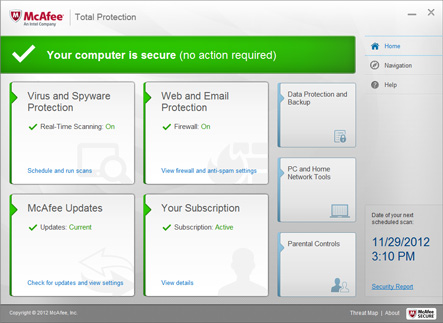 McAfee® Total Protection™ is hassle-free, all-you-need security ideal for people who are constantly online for communication, shopping, banking, trading or viewing entertainment. It features the award-winning McAfee SiteAdvisor® Plus web security tool that warns about and blocks risky web sites. McAfee Total Protection protects your family and entire network of PCs from viruses, spyware, hackers, identity thieves, and online scammers. It also offers parental controls.
McAfee® Total Protection™ is now available with revolutionary Active Protection technology, providing immediate protection against malicious threats to your PC. A new threat can be analyzed and blocked in milliseconds, rather than waiting hours for traditional techniques. Active Protection is the best technology to keep you safe from emerging online threats.
With unmatched performance, McAfee® Total Protection™ runs silently in the background without slowing down your PC, boasting faster start-up, shut-down and scan times.
+ settings optimally adjusted,  automatic firewall, extra utilities | – Online space: 2GB
 Download McAfee Total Protection 2011 here!
---
Outpost Security Suite 7 Free
Agnitum is the first security vendor to deliver a fully functional free version of an Internet security suite for Windows users. Outpost Security Suite FREE 7.0 builds on the acclaimed antivirus, firewall and proactive protection technologies. The free solution employs modern techniques to prevent infections, data corruption and PC intrusions.
Outpost FREE gives you:
VB100 certified antivirus |  Best-of-breed PC firewall |  Top-notch proactive protection |  Light-weight solution, no slowdowns |  Up-to-date technology — based on the latest Outpost 7.0
Download Outpost Security Suite 7 Free here!
+ Complex solution, safety | – Less frequent updates, sometimes annoying Anti-leak module
---
TrustPort Total Protection 2011

Maximum protection for your computer against malware, online threats and misuse of confidential data. The program protects the computer from viruses and spyware at all entry points. All electronic mail and websites are examined in order to detect dangerous or unwanted content. It enables the reliable protection of sensitive data by encryption or the permanent shredding of confidential files no longer in use.
Antivirus and Antispyware – The program uses traditional scanning and heuristic analysis in order to disable any malware which might enter the computer from the internet or add on media. Two top quality motors ensure the detection of harmful code almost to the magic figure of 100%.
Personal Firewall – The firewall serves to distinguish between legitimate and illegitimate connections between the computer and the Internet. The program automatically allows Internet communication for commonly used applications. In the case of unknown or suspicious programs the user is always asked whether connection should be permitted or disabled.
Family Protection  – The program protects children and young people from web content which might be harmful to them. It enables pre selection of website categories which should be blocked such as pornography or gambling sites for example. Various profiles can be created with a variety of settings.
Encryption and Shredding of Data – Two methods of file encryption are available. For the secure backing up of data it is advantageous to store it in an encrypted archive, for everyday security it can be kept on an encrypted disk. In addition the program enables the permanent shredding of sensitive data which is no longer in use.
Portable Antivirus – With the help of this program you can generate a transferable version of the Antivirus on your USB disk which at the same time enables the antivirus scanning of any given computer on which you may be working.
System Back Up Disk – In the case of serious virus damage the program enables the creation of a system back up disk with an antivirus module. After downloading the operating system from the back up disk it is possible to eliminate malware not possible to remove by other means. Download TrustPort Total Protection here!
+ two scanning cores, portable antivirus FREE, environment, important modules in touch | – Firewall asks permission even for well-known programs
---
ESET Smart Security 4

ESET's Smart Security takes the structure built by their popular antivirus program NOD32 and adds on two wings: a personal firewall and a spam filter. Because much of Smart Security is the same as NOD32, this review will focus only on the firewall and spam filter. Stronger and more effective proactive antivirus and antispyware protection with a powerful yet easy–to-use two-way personal firewall and robust antispam technology.
ESET Smart Security 4 keeps your PC safe with smart proactive detection that blocks most known and undiscovered threats hours or days faster than other Internet security technologies. Smart Security enhances your Internet experience without getting in the way.
Built on the award-winning NOD32 antivirus and antispyware engine. Stops most new threats proactively, well before other vendors have issued a signature, maximizing your defense against new and unknown threats. Integrated antispam and personal firewall keeps your online life safe. Scans and cleans Internet traffic and email, even when it's SSL-encrypted, so your email is always safe. Stops threats from entering through removable devices so you can share files with confidence. Integrated SysInspector and SysRescue simplify system diagnosis and recovery. Self defense prevents malware from degrading your level of protection. Tiny signature updates happen discretely as needed and won't bog down your system. Free technical support via the Web, email or phone.

Smarter Scanner – Threats don't always enter in ways you expect. ESET Smart Security inspects SSL-encrypted communication channels like HTTPS and POP3S, and intelligently scans compressed files to find threats that other products miss. ESET's Smart Optimization feature makes file scanning faster than ever.
Time-saving Firewall – The new Learning Mode saves time by automatically creating firewall rules by observing how you use your computer, while offering advanced firewall modes for power users.
Upgraded Antispam – ESET Smart Security now takes care of annoying spam with a smaller, faster, and even more effective spam filter.
Removable Media Security – Threats can enter your PC from removable media such as USB thumb drives. For self-running media, ESET Smart Security scans autorun.inf and associated files when the medium is inserted, in addition to scanning any file on any removable device when it is accessed, or during a full-scan of the media. Power users can adjust ESET Smart Security to perform additional levels of scanning on removable media.
System Tools – ESET SysInspector and ESET SysRescue simplify diagnosing and cleaning of infected systems by allowing deep scans of system processes to find hidden threats, and creating bootable rescue CD/DVD or USB drives to help you repair an infected computer.
Self Defense –  built-in technology to prevent malicious software from corrupting or disabling it, so you can rest assured your system is always protected.
Download  ESET Smart Security 4  – 32bit here! | Download  ESET Smart Security 4  – 64bit here!
---
Norton Internet Security 2011

Norton Reputation Service:instantly checks where files came from and how long they've been around to identify and stop new crimeware faster than other, less sophisticated security software. Norton Protection System uses several overlapping layers of protection that work together to stop viruses, spyware and other online attacks. Norton Download Insight warns you if a downloaded file or application is dangerous before you install or run it on your PC. Norton File Insight gives you detailed information about the files found on your PC including where the file came from (the website URL) and if it can be trusted. Norton Pulse Updates run in the background and provide mini updates every 5 to 15 minutes — more frequently than the nearest competitor — for the latest protection against online threats.
Download Norton Internet Security 2011 here!
---